NCWTS Driver Takes a Look Back at His Rookie Season
FLAGLER BEACH, Fla. (September 30, 2015) – With the last few races of his 2015 NASCAR Camping World Truck Series (NCWTS) rookie season approaching, Ray Black Jr. and crew chief, Jason Miller, took a chance to review his season so far and grade his performance. The driver of the No. 07 ScubaLife.com Chevrolet has learned a lot this year and is looking forward to finishing out the season strong with another great finish at Las Vegas Motor Speedway.
Black, who will be making his debut start at Las Vegas Motor Speedway this weekend, is coming off of two Top-15 finishes during these past two races, one of which (11th at Chicagoland Speedway) tied his second-best finish of the season. He also improved his career-best finish at New Hampshire Motor Speedway by seven spots.
"I've never run at Vegas, but I'm really excited about it," said Black. "We've scored six Top-15 finishes during first-time track visits this year and with the momentum we have going on now, I see no reason why we can't get a Top-10 finish at Vegas."
Ray Black Jr.'s Report Card: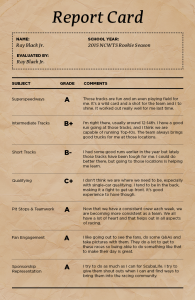 Crew Chief Jason Miller's comments on Ray Black Jr.: