NCWTS Rookie Gets Into the Halloween Spirit with Spooky ScubaLife Paint Scheme
FLAGLER BEACH, Fla. (October 27, 2015) – As the NASCAR Camping World Truck Series (NCWTS) gets ready to spend the Halloween weekend competing at Martinsville Speedway, rookie driver Ray Black Jr. is looking to secure another Top-15 finish at the track in his Halloween-inspired No. 07 ScubaLife.com Chevrolet. Black, who lists Halloween as one of his favorite holidays, has visited the short track twice now with his most recent trip resulting in a 13th place finish.
Instead of the traditional red, white and blue ScubaLife.com paint scheme, the No. 07 Chevy will feature orange and black colors, and be joined by a kraken and skeleton scuba divers. Black, who came up with the idea and design of the paint scheme, worked with team designer Bryan Berger to bring this unique paint scheme to life.
"I wanted to do something really cool for Halloween," explained Black. "But I also wanted to keep with the water theme of ScubaLife, so I ended up thinking about the legends of ghost ships and krakens that people tell. I thought it was a nice tie-in to Halloween and kept with our team's personality!"
"I worked with Bryan on the design and told him what I specifically wanted on it," he continued. "He then worked to incorporate my ideas on the truck. There were a couple of review sessions, but Bryan did a great job of envisioning what I wanted right away. I think it will look great out on the track!"
"Ray approached me with the idea to do a Halloween paint scheme," said Bryan Berger, designer. "He had the ideas of making the ScubaLife Scuba Diver into a skeleton and having a kraken engulf the truck. I worked with him to add some motion and grunge to the design, and I really think it turned out great! It has a lot of attitude and personality to it!"
Black is no stranger to celebrating Halloween even while being away from home. Last year he dressed up as Top Gun's Maverick at the NCWTS race at Texas Motor Speedway.
"Halloween is one of my top holidays," said Black. "I love it all – all the scary movies and haunted houses. We always try to make an effort to do something out of the ordinary and fun each year. A couple of years ago my friends and I went to this haunted asylum up in West Virginia. They have a tour guide there that walks you around all night with Electronic Voice Phenomena recorders (EVPs) and you get to explore. It's a great time!"
"I always dress up too. In years past I've been a character from Scream, Michael Meyers and a scuba diver. Last year at Texas I was Maverick from Top Gun. I'll do something this year too, I'm sure!"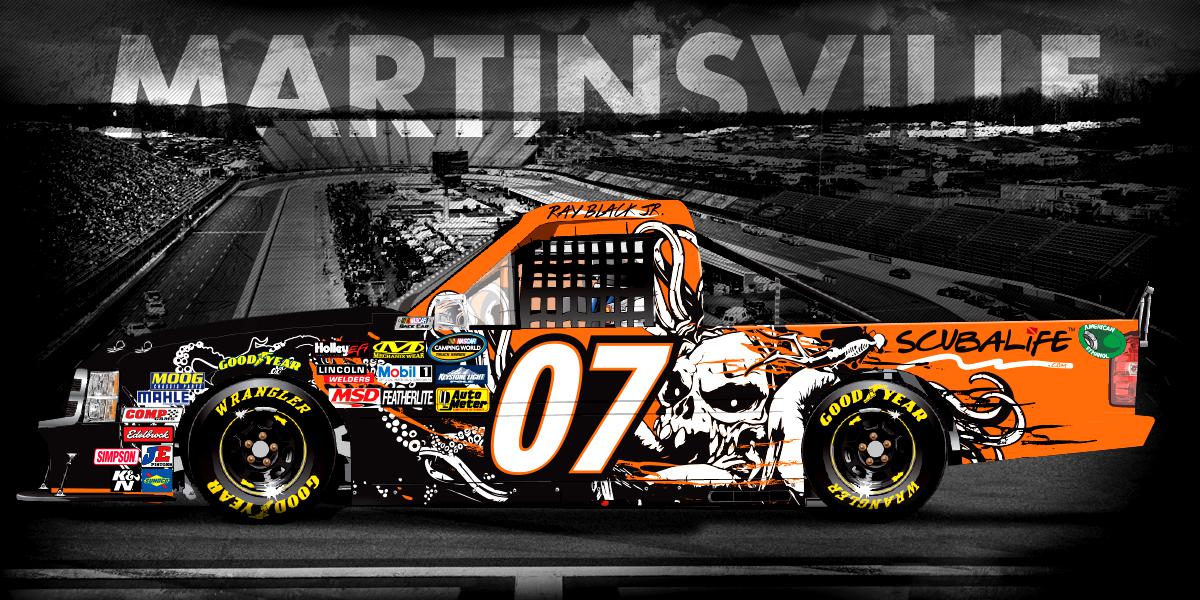 This weekend marks Black's third trip to the half-mile track, as he previously competed at Martinsville Speedway last year during his seven-race deal with SS Green Light Racing and earlier this season. Having raced at the track multiple times now, Black has a true feel for it and knows exactly what to expect once the green flag drops.
"I like Martinsville a lot," Black stated. "I have a difficult time with some short tracks, but I think I do pretty well at Martinsville. I enjoy racing there, and now that I've been there a couple times I know what I'm doing so it's even more fun. You can be a little bit more aggressive with your truck there than at other tracks. It's an exciting type of racing."
Live race coverage for the Kroger 200 at Martinsville Speedway begins on Saturday, Oct. 31 at 1:30 p.m. EST on FOX Sports 1 and MRN Radio. Be sure to tune into the NCWTS Setup show on Saturday at 1 p.m. EST on FOX Sports 1 to see a special feature on Ray Black Jr. and his passion for scuba diving.
Keep up with Black's Halloween weekend at Martinsville Speedway by following him and his sponsor, ScubaLife, on Facebook, Twitter and Instagram at @TeamScubaRacing and @RayBlackJr.